What is web design?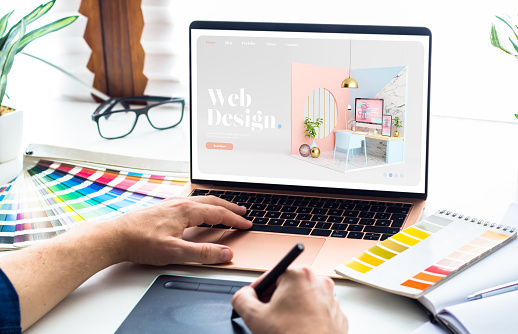 Web design is the creation of websites that are displayed on the internet. Rather than software development, it usually refers to the user experience aspects of website development. Web design used to be focused on designing websites for desktop browsers; however, design for mobile and tablet browsers has become increasingly important since the mid-2010s. To learn more on web designing services, click here on Republic Web Design Service.
A web designer is someone who works on the look, layout, and, in some cases, content of a website. For example, appearance refers to the colours, font, and images used. The layout of information refers to how it is structured and classified. A good web design is simple to use, aesthetically pleasing, and appropriate for the website's user group and brand. Many websites are designed with a focus on simplicity in mind, so that no unnecessary information or functionality that may distract or confuse users appears. Because the keystone of a web designer's output is a site that wins and fosters the trust of the target audience, removing as many potential points of user frustration as possible is critical.
Uses Of Web Design
Search Engine Optimisation (SEO)
is a technique for increasing the likelihood that a website will be found by search engines. Web design encodes data in a way that search engines can understand. It can increase business because the site appears on the first pages of search results, making it easier for people to find.
Customer satisfaction
A professional web design increases client satisfaction by providing them with the information they need quickly. It assists the company in developing a positive relationship with its visitors by ensuring that the navigation on its website is simple, predictable, and consistent.
Mobile responsiveness
The ability of a website to display on a mobile device and adapt its layout and proportions to be legible is referred to as mobile responsiveness. Sites are designed to be easy to view and navigate from mobile devices. Customers can easily reach a business when its website is well-designed and mobile-responsive.
Consistent branding
Branding is the promotion of a product with a distinctive design. Web design assists businesses in developing or maintaining a distinct brand identity. When a website consistently expresses a company's brand, it makes it easier to navigate and helps customers identify the visual elements of a brand as a specific company and its products or services.
Technical efficiency
This term refers to how effective a website can be in providing a pleasant user experience. Designers can accomplish this through clean coding that allows for fast loading times, working links, and dynamic images and graphics. When errors do occur, web design services will fix them.
User experience optimisation
Web designers use reports to learn about how people interact with websites all over the world. They determine which pages receive the most or least traffic and modify the web design to improve the user experience.
Conversion
Conversion occurs when a website visitor completes a desired action. Attractive web design entices visitors to stay long enough to become customers. They will respond by clicking on a call-to-action button, exchanging valuable information, and subscribing to or purchasing a product.
Improve sales
A compelling website's goals include increasing the number of items sold or acquiring more active customers. Because web design reaches targeted customers and search engines, it assists businesses in increasing conversions and sales on their website.
Choosing the Right Web Design Tool
A website can be designed in two ways: with a desktop app or with a website builder. The tool you choose will be determined by the size of your team, your budget, the type of site you want to build, and its technical requirements.
Desktop apps
Designers must create their designs and send them to a development team, who will then convert the design to code. Photoshop and Sketch are the most popular desktop apps for website design.
This is typically the standard for large and/or complex websites because it allows the designer to focus on the overall look and feel while delegating all technical challenges to the development team. Unfortunately, because multiple resources, skill sets, and team members are required, this process can be costly and time-consuming.
To avoid hiring a developer, use a website builder to create a website with fewer technical requirements.
Website builders
There are numerous website builders on the market today that provide a variety of features and services. Wix, Squarespace, Webflow, and Pagecloud are a few popular website builders that differ in terms of design capabilities, template options, price, and overall editing experience. Make sure to do your research, try out free trials, and figure out which platform is best for your website's needs.
Website builders create either adaptive or responsive websites, each of which provides a unique building experience. These concepts will be discussed in greater depth below so that you can determine which builders will work best for you. If you don't know how to code, learning the advantages and disadvantages of various website design tools is critical. For example, despite being the most popular website platform, WordPress is not popular with visual designers due to its limited customization options.
Web Design Elements
It is critical to consider both the appearance and functionality of a website when designing it. Integrating these elements will improve the overall usability and performance of the site. Usability elements on your site include an easy-to-navigate interface, appropriate use of graphics and images, well-written and well-placed text, and a colour scheme. The performance of your website refers to its speed, ranking, searchability, and ability to capture your audience.
Written copy
Fundamentally, the appearance and text of your website go hand in hand. It is critical that your content writers and designers collaborate to create a cohesive design with balanced elements. Focus on creating text chunks (via text blocks) to complement your graphics and images.
Fonts
Choose a font that complements the rest of your design. Fonts should complement your colour scheme, graphics, and images, and should help to strengthen the overall tone of your website. Canva's Font Combinator, for example, can assist you in finding the perfect match for your font. PageCloud, for example, includes a plethora of font pairings within their app.
Colours
When designing a website, one of the most important factors to consider is color. Keep in mind that there are many misconceptions about color psychology, and it's more important to focus on colors that complement your overall website design and tone. Match your color scheme to your brand and the messages you want to send to your target audience.